Transforming Communities
We are committed towards nurturing positive changes through meaningful developments catered to the needs of our future generations.
Our Expertise
Property Development and Investment
We are committed to creating and delivering innovative and sustainable developments for future generations to live, work and play.
Our Expertise
Property Development and Investment
We provide an innovative mix of design, sophistication, style that is strategically themed around connectivity, accessibility and holistic sustainable living.
Creating and Preserving Value
MRCB is the pioneer of TOD in Malaysia, through its flagship and award winning Kuala Lumpur Sentral CBD project, which has attracted some of the world's leading corporations.
We create meaningful experiences through holistic mixed-use developments comprising retail, office and residential components - all within walking distance to transportation hubs.
Our Transit Oriented Developments
Our iconic hubs of connectivity
Kuala Lumpur Sentral CBD
The crown jewel of our Transit Oriented Developments, KL Sentral CBD lies in the heart of Kuala Lumpur, making it the central transportation hub of the city.
Petaling Jaya Sentral Garden City
Located right in the heart of Petaling Jaya, PJ Sentral aims to regenerate the city by being the first Transit Oriented Development (TOD) in the area.
Penang Sentral
Dubbed the 'gateway to The Northern Corridor of Malaysia', Penang Sentral is the North's largest integrated urban Transit Oriented Development (TOD) by linking Penang island to the mainland.
Kwasa Sentral
An integrated commercial hub, Kwasa Sentral offers comprehensive and convenient transportation solutions for the Kwasa Damansara township.
Cyberjaya City Centre
Cyberjaya City Centre is a 53.37-acre development in Cyberjaya that comprises of commercial blocks, an integrated lifestyle and retail arena, serviced residences and a convention centre.
Our Residential and Commercial Properties
Sentral Suites in Kuala Lumpur CBD
Located just 5 minutes away from KL Sentral, Sentral Suites offers to place residents in the beating heart of Kuala Lumpur.
1060 Carnegie in Melbourne
Strategically positioned with breathtaking panoramic vistas of Port Philip Bay and Dandenong Ranges, offers an enviable lifestyle in Melbourne City
Aotea Central in Auckland, New Zealand
This new development will be a 21-storey building with a mixture of retail and commercial space and 63 luxury apartments with integrated access to Aotea Station. Aotea Central will be an exemplar transport-oriented development in Auckland, New Zealand
TRIA Residences @ 9 Seputeh
Sporting an immaculate natural setting, TRIA Residences presents the future of modern living that caters to the residents' unique lifestyle needs.
VIVO Residential Suites @ 9 Seputeh
Located in Old Klang Road, VIVO Residences were constructed to nurture an active and healthy lifestyle via various facilities.
Kalista Park Homes in Bukit Rahman Putra
Kalista Park Homes offers superlink homes with ample living space, all located within a gated and guarded community with spaces for multi-generational living.
Alstonia Hilltop Homes in Bukit Rahman Putra
A luxurious gated and guarded enclave, Alstonia lets residents relax and unwind in a private and secure space.
Green Buildings
Sustainability is at the heart of all that we do, and nothing exemplifies this fact more than our Green building developments.
We are renowned for building Green, environmentally efficient buildings and take great measures towards ensuring our operations and developments adhere to international standards set by key Green Certification bodies around the world.

Malaysia's Green Building Index (GBI)

Malaysia's Green Real Estate (GreenRE)

US Green Building Council's Leadership in Energy and Environmental Design (LEED)

Singapore's Building Construction Authority (BCA) Green Mark
Our Green Buildings
KWASA C8 Plot 1
Kwasa C8 Plot 1, a 12-storey GreenRE Platinum rated EPF Headquarters connected two main MRT Stations attracting public realm, corporate sector in Kwasa Damansara, a future multimedia commercial hub.
Our Green Buildings
PJ Sentral
PJ Sentral Section 52 will be a welcome change to the ageing and decaying facade and landscape of PJ. PJ Sentral will adopt the Green Building Index (GBI) Gold for the individual building and US Leadership in Environmental & Energy Design (LEED) Neighborhood and Township Development Gold rating for the overall development.
Our Green Buildings
Cyberjaya City Centre
Cyberjaya City Centre contains several developments of various scales which include a world-class convention centre, hotel, serviced residences and hybrid-concept shopping mall. Housing businesses of different sizes are mid-rise residences and offices. Each structure offers various facilities and tree-lined pathways that link between zones double up as a green lung.
Our Proprietary Building
MRCB Building System (MBS)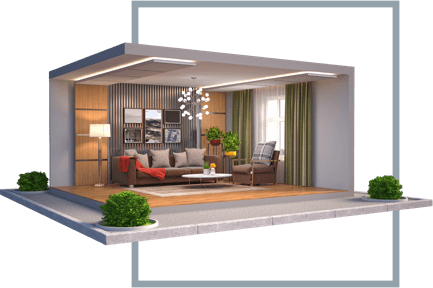 After years of research, MRCB developed Malaysia's first Prefabricated Prefinished Volumetric Construction (PPVC) system called MBS.
The MBS will revolutionise construction in Malaysia and will reduce dependency on manpower, material wastage and project delivery time, as well as ensure consistent and high quality standards.
Flexible Products
For lower, medium and high-end developments including single-storey, low-rise to high-rise buildings.
Lower Risk of Cost Overrun
Hidden construction costs are removed through the pre-engineered and prefabricated system.
Less Disruptive
Sustainable construction system as noise and dust pollution are reduced and material wastage kept at a minimum.
Variety of Design Options
Different module types to develop buildings.
Quality Control and Home Automation
Our fabrications are assembled in an automated manner, ensuring that they adhere to strict quality standards.
Shorter Build Time
Faster project delivery as site development and building fabrication are done concurrently which in turn reduces physical labour.
Improves Safety
Less on-site activity.